24 Apr

The Spirit of de Grisogono | de grootste zwarte diamanten ring

Zwarte diamanten zijn zeer zeldzaam. Natuurlijke zwarte diamanten hebben een unieke samenstelling waardoor ze zich onderscheiden van andere gekleurde diamanten. Dat is de reden waarom zwarte diamanten vaak een andere naam hebben: carbonado. Van alle zwarte diamanten is de Spirit van de Grisogono de grootste ruwe zwarte diamant ooit gevonden.
Unieke diamantslijptechniek
Zijn grootte wordt benadrukt door de Mogul diamant-slijptechniek. Deze slijpmethode werd enkele eeuwen geleden in India ontwikkeld en is terug te vinden in een aantal historische diamanten. Het Mogul-slijpsel is zeer geschikt voor zwarte diamanten omdat het weinig rekening houdt met symmetrie en schittering, die voor een zwarte diamant veel minder belangrijk zijn dan voor kleurloze en fancy gekleurde diamanten.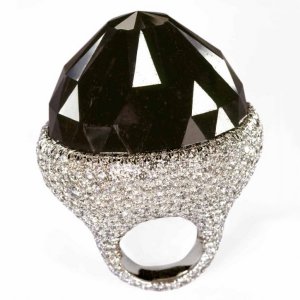 The Spirit of de Grisogono ring
De Spirit of de Grisogono is nu een 312,24 karaat diamant, wat het de 5e grootste geslepen diamant ter wereld maakt. Deze zwarte diamant is gezet in een witgouden ring omringd door 702 witte diamanten met een gewicht van 36,69 karaat.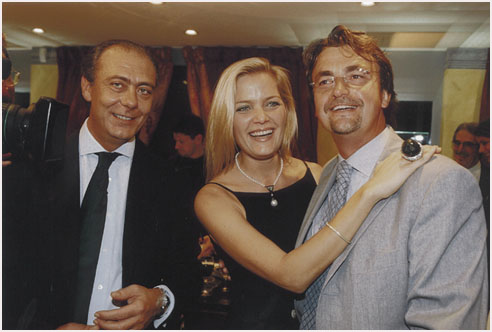 Bezoek ons
Tot op de dag van vandaag hechten wij veel belang aan diamanten. Vandaag staan diamanten symbool voor de eeuwige liefde tussen twee mensen. Men gelooft dat als je een verlovingsring om de vinger van je geliefde schuift, deze persoon instinctief zal weten of jij de ware bent. Er is maar één manier om daar achter te komen! Wie weet, misschien hebben diamanten nog steeds speciale krachten?
Bezoek ons vanaf 27 mei en laat u betoveren door de diamanten van het Diamant Museum.