01 Feb

Cora Sun-Drop Diamond | A truly unique yellow diamond

The Cora Sun-Drop weighs 110 carats and is a 'vivid fancy yellow' diamond. These two aspects alone make it extremely rare. Natural diamonds over 100 carats are far from common as are diamonds with a deeply saturated colour. It's no wonder then that this diamond set a world record as the world's most expensive yellow diamond ever sold at auction.
Display in the London Natural History Museum
The diamond was found in a kimberlite pipe in South-Africa. Rigorous tests proved the authenticity of the large yellow diamond and gave an estimate for its age from 1 to 3 billion years old. Its uniqueness and age are of such historical significance that it was on display in the London Natural History Museum for over six months in the Vault among other famous gemstones like the Aurora Pyramid of Hope.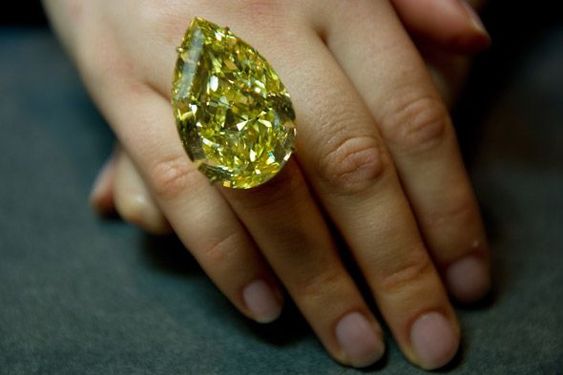 Largest pear-shaped yellow diamond
After its time in the Natural History Museum, the Cora Sun-Drop was sold for over $10,9 million to the company Cora International which made the rough diamond even more unique. They decided on a pear shape for the yellow diamond, which is also known as the drop diamond cut. The name of the Cora Sun-Drop diamond is thus derived from the company that cut it, the yellow colour and the diamond shape.
It took Cora International six months to cut the diamond. Suzette Gomes the chief executive of Cora International explained their choice for the pear cut as follows: "If the colour is weaker you would cut a square to keep the colour and make it stronger. If your colour's very strong, you would cut a pear shape."
Cora Sun-Drop Diamond fetches world record price
After being cut, the diamond was put on the Sotheby's Magnificent Jewels auction where it was sold to an anonymous buyer who paid a record of $12,36 million for this one-of-a-kind-diamond. Its current whereabouts are unknown.