07 Dec

The famous Archduke Joseph Diamond

Famous diamonds are extremely popular among collectors but are rarely seen at auction. When an amazing diamond does go under the hammer, it is sure to attract a lot of attention. A great example is an auction of the Archduke Joseph Diamond in November 2012.

Archduke Joseph is a 76.45 carat diamond with a cushion cut. It was sold for $21.5 million, well above the 15 million estimate. If you divide the total price by the carat weight of the Archduke you get a price per carat of over $280.000 which is a record for a colourless diamond.
The Golconda Mines in India
The $21,5 million was also a record for a diamond of the Golconda Mines. The Archduke Joseph Diamond was found in the Golconda Mines in India; a mine that has gained as much fame as the diamonds that were found there. The Koh-i-Noor, The Hope Diamond, and The Regent Diamond are a few examples of famous Golconda diamonds.
What makes diamonds from the Golconda mines so special is their high clarity grade. Archduke Joseph has a D-color certification with the second highest clarity grade – internally flawless (IF) – which is extremely rare for a diamond of its size. Combined with a less common cut, the diamond truly is one of a kind.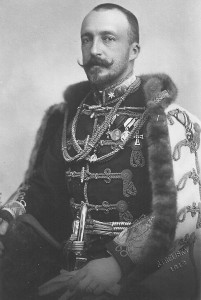 Archduke Joseph
The diamond owes his name to an archduke; Archduke Joseph August of Austria. Also known as Joseph of Alcsut, a prince of the Hapsburg dynasty. Sadly it is not known how the diamond got into his possession.
In 1936 he sold the diamond to an anonymous buyer who kept the diamond safe during World War II. The diamond did not surface again until it failed to sell at auction in 1961 in London. In 1993 the seller had better luck and was able to get $6.5 million for it, which is of course still a lot less than the $21 million it was sold for in November.