25 Jan

The Briolette of India | myths and reality

Sometimes we think diamonds were around since the dawn of time. And in a way they were. But when it comes to actually mine diamonds we don't have to look too far in the past. The first diamonds are thought to have been discovered around 800 BC. They didn't reach Europe until the time of Alexander the Great and it took until the 11th century for examples of diamond jewelry to show up.
History of the Briolette of India
One of the oldest diamonds that has been recorded over time is the Briolette of India. Its first mentions are in the 12th century, so it could even be older than the Koh-I-Noor. It is believed the Briolette of India belonged to Eleanor of Aquitaine, the queen consort of King Louis VII of France. In later days she was married to King Henry II of England.
The second marriage brought with it eight children, the most famous being Richard the Lionheart. It's believed Richard the Lionheart took the Briolette of India with him on the third crusade. In the following three centuries the whereabouts of the diamond is unknown.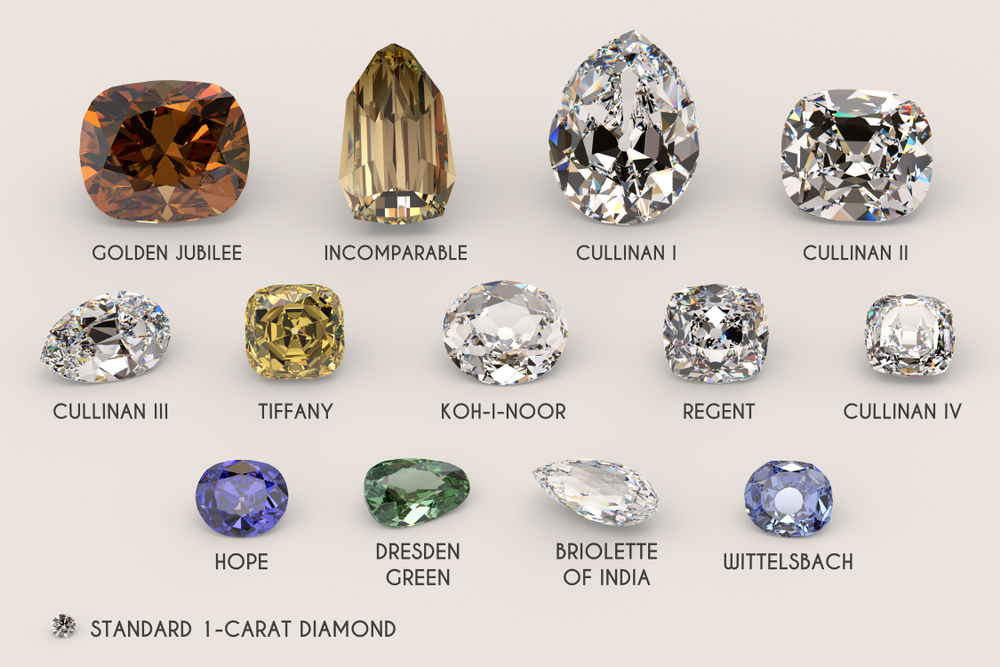 Recent theories don't find any mention of the diamond until the late 16th century when it once again belonged to French royalty, Henry II of France to be precise. The diamond is clouded in mystery for another four centuries until we reach the 20th century when Harry Winston, a New York jeweler, purchases the diamond from an Indian Maharajah. It is said a European family is the current owner of this famous diamond with a rich history.
Characteristics of the Briolette of India
The Briolette of India weighs 90,38 carats. It is cut in a unique way; the briolette shape of the diamond is in fact an extreme form of the double rose cut. The diamond is perfectly colorless, getting the highest grade possible for color which is D-color. And it's a type IIa diamond, which is why it's also known as "the purest of the pure".
The Briolette of India is currently set in a necklace with another diamond and a pearl.